This project takes the notion of seaworthiness from ships and uses it as a metaphor for emotional resilience in the face of trauma.
I will use this idea to explore the link between my Great Grandfather, whose hands were badly injured in the Merchant Navy in WWII and my own experiences living with MS. Later in the project I will gather experiences from participants who've overcome injury or disability affecting their hands.
This Project is supported by an Emergence bursary from a-n The Artists Information Company, Disability Arts Online and Shape Arts.



Past Projects
2015 - 2016
This is your inheritance was a long-running interactive project that involved over 130 women and culminated in an installation of 10 x 7 meter printed banners (combined that's the same length as the Bayeux Tapestry) and a companion book. The Project used ideas from Situationism, Object Theory and Gender Theory to celebrate ways women have used inherited textile skills to survive and thrive.
This project was exhibited for three months at Holy Trinity Church Leeds. The project book is available to buy here.
How do You Sleep at Night?
How do you Sleep at Night? Is an interactive project that ran for a year collecting responses from over ninety participants.
The project explores the spatial politics of our sleeping space and the way our bed relates to our emotional and mental wellbeing.
Participants were asked to submit a phrase they say to themselves when trying to get to sleep and these phrases were embroidered in white thread onto white bedding
Love, Letty x - 2011 - 2013
This project was initially inspired by theories of Situationism. Love, Letty x was an interactive art project which explored the abstract nature of the internet and its juxtaposition with the reality and physicality of our 'real' offline lives, initiating a conversation with an audience who engaged with me as an artist and writer.
I requested that participants ask questions or made comments to which I replied with a written answer and a corresponding piece of art. The physical objects and typewritten reply were posted to the correspondent and digital images of both were posted online.
Love, Letty x ran for over a year, in that time it was made into a book and performed live at an International Digital Media Conference.
You can still view the project on the site or buy the book
After a major personal trauma it appeared to me that physical survival is often valued over emotional wellbeing, and I was inspired to create survival equipment for emotional emergencies.
In Life Raft I wanted to create a safe space for someone to recover from emotional trauma. The soft sculpture is constructed from calico, duvets and pillows, and is scented with lavender, to comfort and soothe.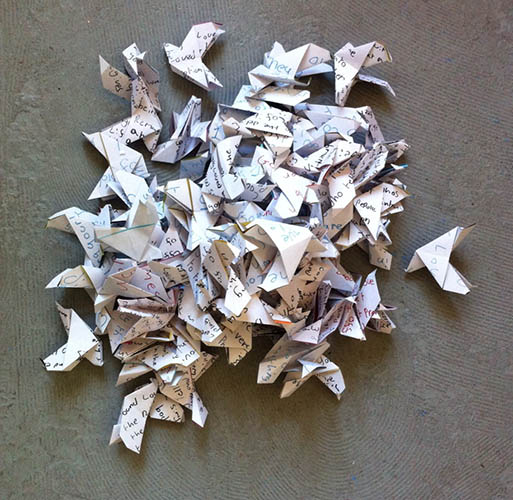 Me Without You explored the themes of obsession and objectification. A series of 200 love letters were written to an imaginary person.
The letters were then folded into origami birds and sent with accompanying illustrations to strangers chosen randomly from the phone book or left to in public places to be collected.